Get a Free Browser-based Access to our Own
Virtual Desktop Infrastructure

Demo Lab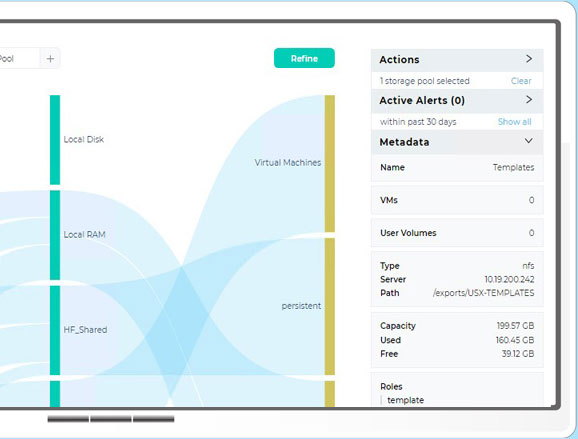 Try Hive Favric's Admin Console - No Software Installation Required
The immersion lab gives you read-only access to our demo Virtual Desktop Infrastructure through Hive Fabric's admin console. It's a quick way to get started as it doesn't require any software installation. The admin console is an HTML 5 web-based application that uses an intuitive workflow that allows you to navigate through the Fabric clusters with a simple point-and-click process. The demo lab is comprised of three hosts, five storage pools, and thirteen virtual machines. It is a good first step that will get you an insight into how Hive Fabric is easy-to-use. You might want to schedule a demo to see how the rest of the features work and get your technical questions answered.     
Filter Pools or Drill down to a

Single Virtual Machine
Hosts, Storage and Virtual Machine pools in a Single View
Hive Fabric's admin console provides a 360-degree view of the Fabric Clusters as well as quick access to remote support tools located in the side panels. Admins can navigate between hosts, pools, and virtual machines using a simple point-and-click process. Powered by the message bus, The UI displays data in real-time. The performance Manager View overlays alerts with present and past CPU, memory usage, network, and storage IOs. Allowing to go back 30 days, it is a powerful tool to identify the root cause of an issue. The console is packed with great remote support features such as the one-click remedial actions.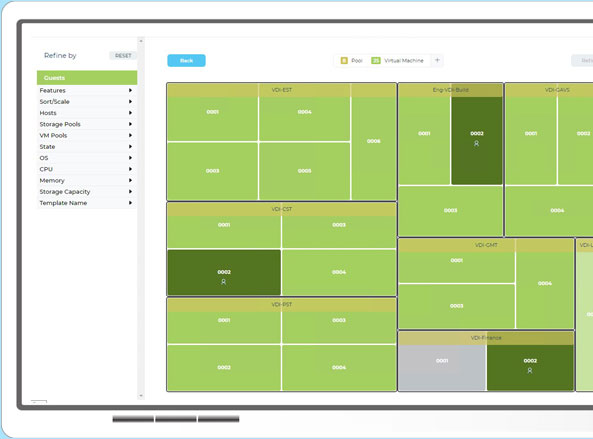 Troubleshoot VDI Bottlenecks

with the Performance Manager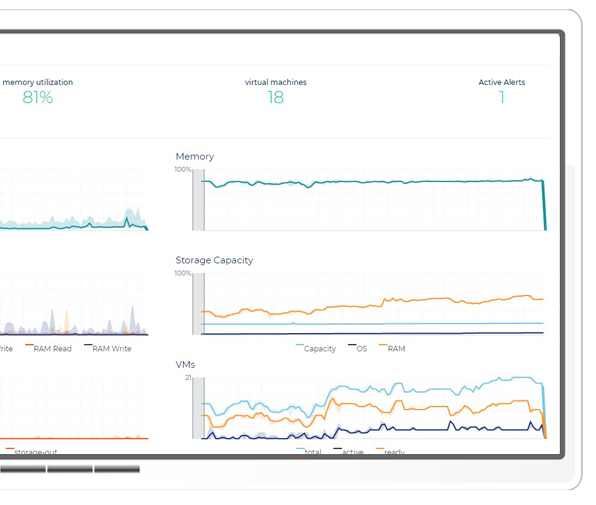 Real-time Data Enabling True IT Orchestration
Hive Fabric's API can be used as an integration point with the tools available in your company's digital technology stack such as Business Intelligence, data visualization, AI, automation or service desk applications. The access to the Fabric Cluster services can be leveraged to further develop orchestration, IT Asset management, and reporting capabilities. Because of Hive's Intelligent Message Bus, you can actually pull or push data in real-time. As a result, admins can build a runbook of automation using a machine or cluster change of state or configuration as a trigger. This is great for the deployment of "scan, detect, alert or auto-remediate" workflows. Among all things, those workflows can auto-dispatch preventive measures to avoid performance degradation or re-enforce endpoint compliance by detecting the use of blacklisted applications.