Driving business forward with Hive Fabric 7.0
By: Toby Coleridge, VP Product – HiveIO Inc.
As we worked through the product plans and roadmap for 2018 it became apparent that we had to go back to our roots and focus on driving value for our customers and remove complexity from the data center. We reviewed every feature request and prioritized our engineering effort on delivering features and functionality that will enhance the business and make IT more agile. We focused on freeing up time for everyone to evolve, innovate, and meet the demands of the ever-challenging workforce.
This culminated last week in the launch of Hive Fabric 7.0.  Delivering key functionality for customers that will help them remove complexity from the data center, Hive Fabric 7.0 also challenges head-on the validity of a hypervisor tax that has plagued the datacenter for so long. Now given a choice, why would you continue to pay this?
Hive Fabric 7.0 builds on our core unique message-bus architecture and positions us for the future with an AI Ready platform that will deliver on the promise of an intelligent data center.  New capabilities in this release include:
Extended Virtual Server Support

– Run multiple mixed-application workloads on a single infrastructure. Windows or Linux, Server or Desktop it doesn't matter. With our extended virtual server support, IT can change the operational model in the data center, unifying disparate systems while continuing to leverage the investment already made in hardware.

Shared Storage

– Augment the local and In-Memory storage capability of Hive Fabric, with hyperconverged scale-out storage. Hive Fabric automatically manages the creation, presentation, and ongoing management of the storage, which enables seamless expansion as additional storage resources are added to the cluster. No complicated setup, a simple click of the 'Enable Shared Storage' button is all that's required.

Cluster Resource Scheduler (CRS)

– Dramatically simplify the data center using our intelligent CRS to manage the pooled resources.  CRS provides continuous, automated monitoring of resource utilization across the cluster and ensures a workload gets access to the resources it needs by automatically moving Guest VMs between servers to ensure operational efficiency.  The result not only simplifies the datacenter but also helps drive down costs by reducing the amount of hardware required to run workloads. No complex rules to create it's simply on or off.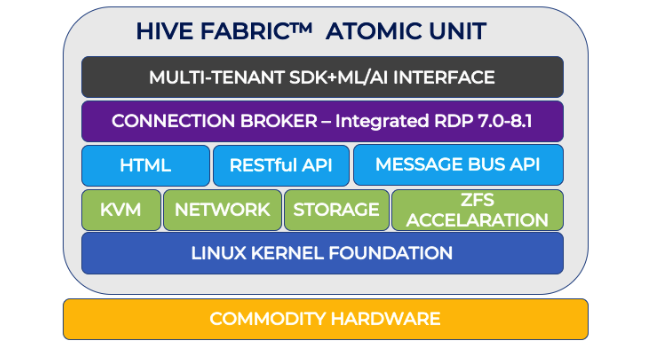 This is just a brief overview of the major functionality we added in this release, there are numerous other enhancements to the platform that will benefit you. I urge you to contact me or your sales team to find out more, get a demo, calculate the cost savings for yourself, or simply just deploy in your data center.