Moving to a new era: full-stack solution on top of bare metal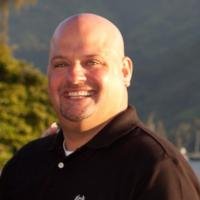 By: Greg Dietrich, Solution Architect – HiveIO Inc.
We are continuing to see significant interest in Hive Fabric, especially in delivering the public cloud experience on-premises, and how our solution can fit in any VDI/VSI environment. How does Hive Fabric provide the same functionality and more as other VSI/VDI solutions? It is important to note that Hive Fabric 7.0 operates primarily as a full-stack VDI or VSI solution, on top of bare metal. I'd like to take a few minutes to outline some of the basic functionality included in Hive Fabric platform.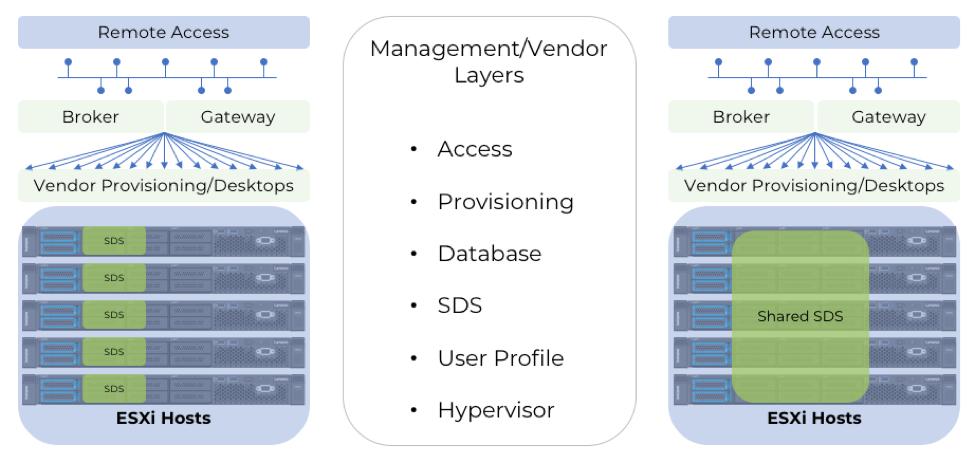 Hive Fabric provides a very flexible platform to enhance both VDI and VSI environments.  The basic bare metal installation provides you with the platform to run workloads on one of several different architectures:
In-Memory – A Hive Fabric appliance is capable of carving out memory to provide storage for any targeted workload. During the creation process for a guest pool you can select RAM as the storage target, so you will continue to benefit from the extreme performance of delivering VDI from RAM with Hive Fabric.
Local Disk – Using local SSD to run your workloads provides a good balance between cost and performance.  One key difference over other solutions is that Hive Fabric provides you the ability to live migrate, even while using local storage.
Shared Storage – Hive Fabric can also deliver shared storage, using local disks from across multiple hosts to build a resilient shared storage platform ideal for virtualization.  Simply press the "Enable Shared Storage" button in your Hive Fabric cluster and we will pool the storage into a single storage target available to all hosts in the cluster.
All of the storage architectures referenced here are native to our Hive Fabric platform, with no virtual appliances required to provide features like storage presentation, IO acceleration, deduplication, or compression.
In addition to the optimized storage platforms, Hive Fabric also includes features that allow for the complete management of the platform.
Cluster Resource Scheduler – CRS ensures that the guests running on Hive Fabric are efficiently managed, getting the resources they need to run while balancing the resource utilization across the platform.
Broker – When enabled, Hive Fabric operates its own guest broker as part of the overall solution, allowing any cluster host to provide access to any guest within the cluster, and providing end-users with a simple to use interface to login and access their desktop.
Dashboard – The Hive Fabric dashboard places cluster orchestration into a single UI and includes features for host hardware monitoring, guest management, and an API/Message Bus browser.
Hive Fabric™ Optimized VDI / VSI Environment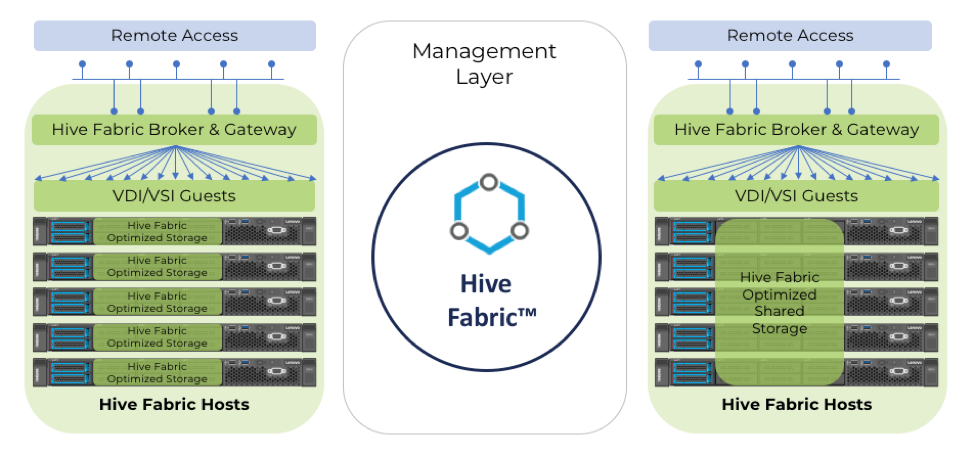 The Hive Fabric platform is a full-stack replacement of the traditional Hypervisor, SDS, VDI architecture of the past. Optimizing your platform under a single vendor not only brings simplicity and operational efficiencies but also extends into significant cost savings from single vendor licensing, streamlined administration efforts, and removal of the management layer bloat that has been collapsed into Hive Fabric.