Why upgrade from USX™ to Hive Fabric™?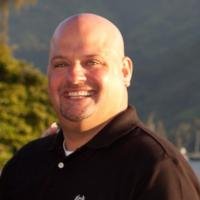 By: Greg Dietrich, Solution Architect – HiveIO Inc.
USX continues to be a valuable asset to many organizations globally, providing primary storage for Virtual Server (VSI) and Desktop (VDI) environments.  As the original all software SDS platform, USX introduced the concept of allowing customers to create an optimized storage infrastructure leveraging any storage resource within their environment. USX transformed storage platforms with its unique ability to provide exceptional levels of deduplication while continuing to accelerate IO performance.
Shared SAN/NAS
Local standalone disks
Direct attached storage
RAM as primary storage
Local disks as hyperconverged storage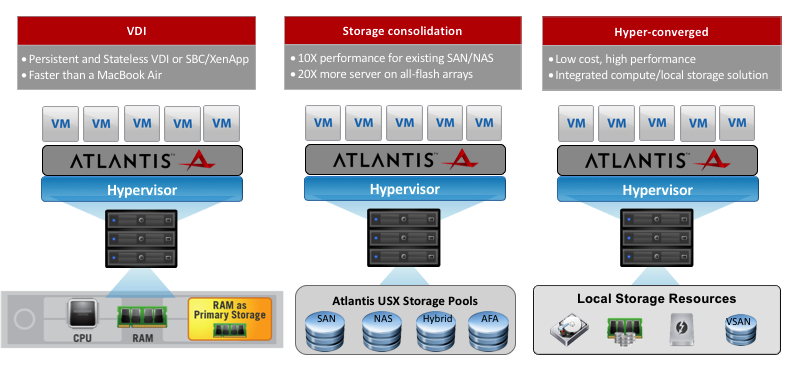 As significant as the technology is, we continue to work to provide improvements in the architecture to enhance this already great platform.  As USX served as an upgrade to enhance the flagship ILIO platform, Hive Fabric serves as the upgrade for USX.  This next generation platform maintains the technical superiority of USX while building on capabilities that define the next Software Defined Datacenter (SDDC).
Hive Fabric™ – The Datacenter Building Block
Hive Fabric has a building block architecture that extends past the capabilities of ILIO and USX while continuing to incorporate those features that established them as industry-standard platforms for VDI and VSI.  Hive Fabric provides the additional functionality to further optimize your datacenter in a simple to consume low-cost model.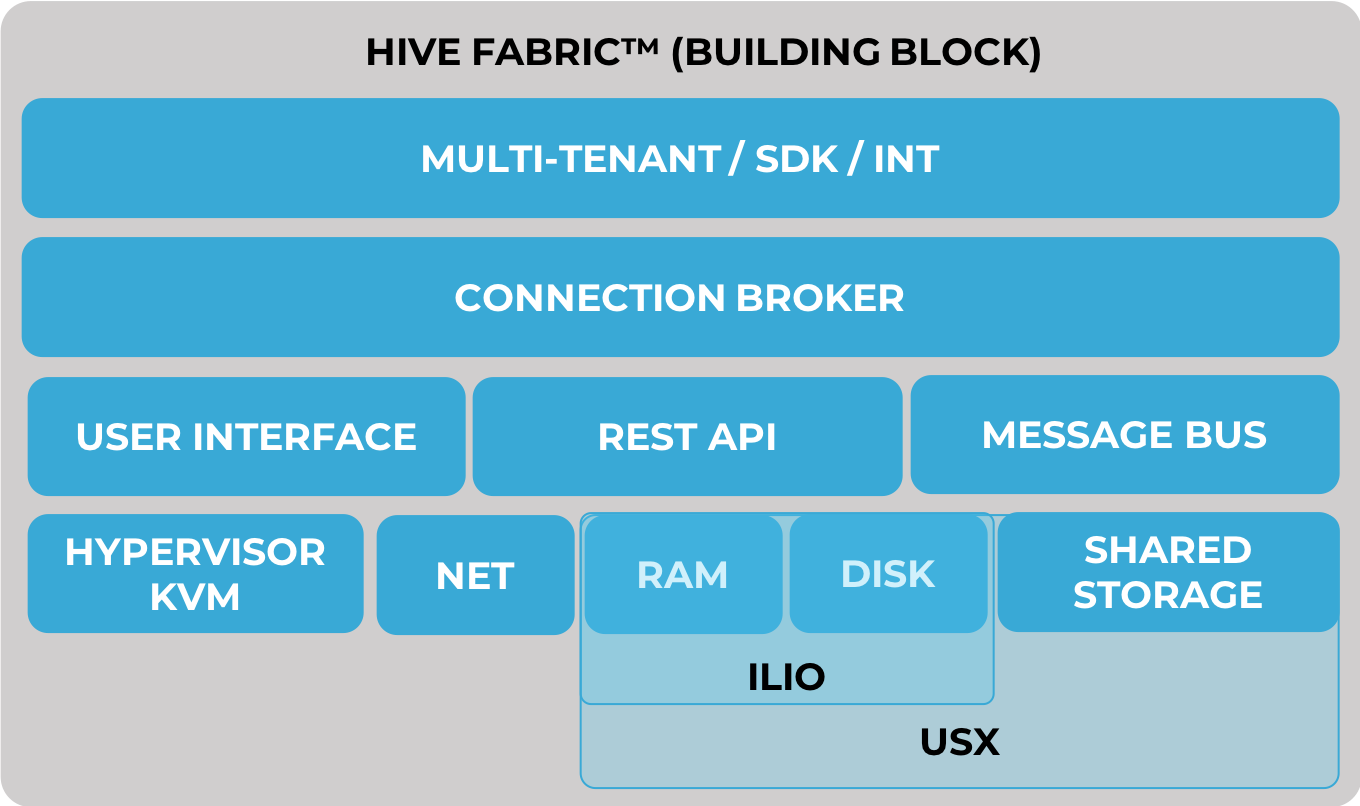 Software Defined Storage (SDS)
Software Defined Data Center (SDDC)
Full support for VDI and VSI VMs
Cluster Resource Scheduler
Cluster HA services
Storage acceleration of RAM
Deduplication and compression
Shared storage
Operational cost model
Augment current or deploy Green Field
Hive Fabric™ Deployment Models
Leveraging the same RAM, Disk, and Network resources, Hive Fabric fulfils the wide range of deployment scenarios familiar to our ILIO and USX customers as well as paving the way for the next generation datacenter.  Using any of the delivery approaches below, leveraging all or part of the technology to suit your specific needs.
Bare Metal Fabric – Harness the power of Hive Fabric on bare metal, allowing Fabric to manage the underlying resources to provide the ultimate VDI / VSI platform in a single easy to use platform. Hive Fabric provides an impressive list of functionalities that include the bare metal hypervisor and guest orchestration, shared storage presentation, Cluster Resource Scheduler to balance your workloads, and full REST API and Message Bus for monitoring.  Delivering this elaborate technology in a single installation behind a single user interface, without the bloat of separate management platforms, continues to put Hive Fabric at the forefront of SDDC solutions.
Virtualized Fabric – Hive Fabric will run on top of your current hypervisor and you can choose which features make sense for your environment. Use it as a RAM disk for VDI acceleration, or as an SDS platform for shared storage in an existing environment.  Take the entire Hive Fabric platform on a road test, provisioning and brokering guest desktops or supporting a virtualized server environment.
Managed Fabric – Further simplify the management of your entire VSI or VDI environment by moving to a managed service provider leveraging the power of Hive Fabric.  Let any of our partners remove the concerns over IT upgrades, management, or operations to further reduce your entire IT budget to a simple per VM (VDI or VSI) per month OPEX model.
Choosing Hive Fabric™
HiveIO is committed to creating a simplistic approach to the next evolution of the data center, focusing on an intelligent event and alert driven management paradigm. Let Fabric decide on the right resources to leverage to ensure a resilient and scalable platform.